Est 1983 - ON PRES: Robin Low
| | |
| --- | --- |
| Run 412: | 7 November 1999: Ambersham Common |
| Hares: | Sue and Phil Spooner |
---
A good turnout (19 excluding hares), a bright morning, expert hares and a hangover. What more could a hound wish for ?. Robin introduced a newbee, Li-Nan a student from Beijing who was running in what appeared to be army boots. Amanda was flashing because flash was carrying the shit. The hares said something, I cant remember what, and then we were off in a north easterly direction according to my compass. To start with the pack seemed to have forgotten what its all about, and a few checks that had "faded" badly meant that the hares were giving a lot of assistance. Thankfully, this didn't last long and we were soon on song and heading on a generaly left handed route towards the old railway. Some of the front runners who were getting out of puff tried the old dodge of calling "Re-Group!" but Phil was having none of it, I heard him calling out "There'l be no ****dy regroups on one of my runs"... and there wern't.

Somewhere up there in the woods the route took us through a tunnel under dense branches and foliage, very spectacular in a dark and eeeery sort of way. A few nice checks with good falsies kept the pack together and saw us crossing a stream and heading west towards Midhurst. Paul and I got a little bit lost at this point and accidentaly overran a falsie to find ourselves on a very nice little shortcut down the old railway. Trying to find my way back I was attracted by a distant voice calling ON-ON. Heading towards the voice I discovered that it was coming from 20 feet up in the air, yes Pete was doing one of his "look I climbed the tower" tricks. Down from the tower and over the old railway saw the pack easily through some easy checks and rejoined by Paul, heading south now. An hour gone, must be ON-IN soon, right ?... NO wrong! we had forgotten about the traditional Spooner sting in the tail. This time it consisted of a loop to the west with some crafty sawdust adjustments that had us dazed and confused (well I was). After all this the pack was pretty much all together again as planned, I assume. The final check was so close to the chariots that some took a direct route home although the ON-IN was only slightly further.

Ceremonies were in the car park, where there were several nominations. Pete was high on the list for Tower climbing but the award went to Malcolm. The citation reads "While being spotted as a SCB in full view of our mistresses the said Mr Spiers proceded to sink up to the level of his testicles in a bog. The only mitigating factor being that he did not call out for help". I am afraid I didnt see the offense myself but the circumstancial evidence was a black tide mark at the appropriate level on his shorts. Apres hash was at that pub in Graffham, The White Horse I think...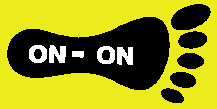 ON-ON Jan