Est 1983 - ON PRES: Robin Low
| | |
| --- | --- |
| Run 414: | 5 December 1999: Fairmile Bottom |
| Hares: | Peter Colgate and Dave Enticott |
---
Bright sunny cool Sunday, medium pack, no newbies but some familiar faces not seen for a while. Hare briefing contained predictable statements like "it might be a bit hilly" and also some red herrings like "be careful crossing the A29". Heading Southeast from the start, which at Fairmile Bottom means UP, we were very soon at the first check just below the main climb. With trails left right and up, only a few brave souls chose up, most of the rest were thinking about red herrings and anything to avoid going up. The on on was in fact UP which I suppose was a sort of double bluff by the hares, I mean these guys are too sophisticated to do something like go straight up, so thats what they did.

At the top was a check that the pack could not fathom, a couple of long falsies, one long looped back falsie. So the hares had to help by reminding us that back checks are still allowed by the Geneva Convention. From here we headed Eastish parallel to the ridge and then South. Checks in this section were quickly sorted, aided by a few "accidental" falsie marker overruns. It is so hard to see those three little spots amongst all the dead leaves this time of year. Eventualy we arrived at a BIG check, with 5 or 6 equaly plausible ways out.

After some hard graft checking, the trail was found to the South West and on to another multi choicer. More grafting and we were heading West to yet another check with trails in all directions. By now the pack had split into two groups, those that had been fortunate enough to make the right choices had pressed on and were well ahead. At this point the leading group all made the same choice and headed Northish back towards the A29 and were on the trail. The next checks were just at the top of the ridge above the main road, the final one being quite hard to crack, as the on on was through the undergrowth and straight down to the ON IN mark.

The first group were back at just on the hour which seemed a short run compared with the 413 marathon. The second group arrived some 10 mins later having had to re-find the way through the last check.

Apres hash was at the Black Horse in Binstead, which was quite crowded. Nominations were; Paul for standing on a falsie, Robin for ...I couldnt hear why, and the winner Dave Barclay for bringing along a tow in the form of Jake who was only on the lead during the up hill sections.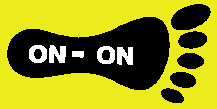 ON-ON Jan H