Est 1983 - ON PRES: Robin Low
| | |
| --- | --- |
| Run 416: | 16 January 2000: Singleton Forest |
| Hares: | New JMs |
---
It was with some trepidation that we gathered at the oil well on a cool sunny morning. This was the first run under the yoke of new masters and who knew what would be in store ?. A pair of hash virgins Wena and Ann were introduced and then Roger launched into something slightly reminiscent of a caribbean Baptist service. "Is the way long ?" he called out (congregation mutter "yes" in reply). "Is the way muddy ?" (reply "yes"). "Is the way precipitous ?" (reply "yes"). Then there was silence as we all seemed to be deciding whether or not to get back into the chariots and leave. But before the impluse could be translated into action, Phil barked out "GET ON WITH IT THEN !" just as he must have done in a previous existence. So off we went obedient to the end.
Now I suppose you are expecting to read a detailed description of the route etc. Well to be truthful I have no real idea of where we went, however I will try. We set out more or less due East and soon discovered that on this run the false ones would be loooooong. After 2 or 3 checks we arrived at that spot were there are about 6 different ways to go. I think we came in at about 8 o'clock and the on on was at 2 o'clock or 3 ish. Essentialy from here we had a big clockwise loop to the South to return to the 6 way spot from 6 o'clock to find the check had been remarked. Along the way the virgins seemed to have had a few helping shortcuts and Paul had appeared from somewhere (late again). At this point some brave soul had called an impromptu regroup, much to Phil's dismay because the previous check had reversed the order of the pack in a biblical sense (the first shall be last etc) and so the stoppage eased the pain for some.
We left here at 12 ho'clockish to start an anticlockwise loop that would bring us to the on in, thus making this a rough figure of 8. On the first part of this loop a handfull of us were detached from the main group by following what some call a "lost trail" and others call "xxxxxxxx". In any event it was a false trail for which we could not find any magic triple dots. Thankfully one of our harey masters directed us to a short cut (or to be more PC "a judiciously chosen route optimisation") and we were able to rejoin right opposite one of those big watch towers. I did check it out and I couldn't see Pete up it. The final check was slightly marred by a bit of a falsie overrun but this didn't spoil what was a brilliant bash.
Ceremonials were carried out on the spot. Paul won 3 nominations; for chatting up virgins, for being late, and something to do with trying to get a regular customer in New Zealand, however the wooden throne top was awarded to yours truly, apparently for checking out too many false trails or something ?.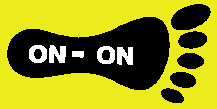 ON-ON Jan H