Est 1983 - ON PRES: Robin Low
| | |
| --- | --- |
| Run 422: | 9 April: Selhurst Park |
| Hares: | Malcolm Spiers and Selwyn Kemp |
---


It had rained earlier in the morning, but by eleven the sun was on its way out and the misty woods of Selhurst Park were starting to warm up. It was very nice to see one of the Joint Masters at the start, but he was only there to say "Goodbye" with some excuse about having to fetch "er indoors" from the hare-port. Some pre-bash trash from the hares included a plea (later to be ignored) not to overrun any falsies, and then masterless we were off, real freeeedom !.

The first little surprise was that we were on flour and not sawdust. At first I thought it was Jordan's organic, but closer inspection revealed that it was Tesco's own self raising, what a dissapointment.

Heading West from the East carpark a simple check had us turning North and down to that little clearing where almost all the ways out are UP. The on-on was indeed UP and back South toward the road almost from whence we had come.

This was to be the pattern for the rest of the hash, a series of loops all crammed in to the small kilometre square between Selhurts Park and Droke Hanger. Sort of resembling those drawings we all made in school of how the large intestine fits in the bit below the stomach. There were other similarities, including the bit about both having their fair share of shiggy.

Click for a look at the route

Everyone was being very well behaved, most strange and unusual, especialy as we were masterless, definitely a case of "when the cats away the mice dont play". And so it continued for just over an hour, until yours truly managed to overrun the last falsie and prematurely find the on-in. Of course, all others followed in the rush for the chariots, and so we all missed the Colon part of the run. We will never know what joys awaited us round that last bend of the trail.

The ceremonies were carried out in the carpark, there was realy no competition for the awards, so I ended up awarding the hashit to myself, a sort of hashing self abuse I suppose.

Those of us who were able, finished up with some bevvies at the Hurdlemakers.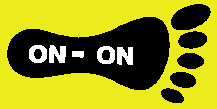 ON-ON Jan H