Est 1983 - ON PRES: Robin Low
| | |
| --- | --- |
| Run 423: | 30 April: Milland Crossroad |
| Hares: (Big Breath) | Pru and Graham Dowdell and Amanda Greenwood and Alan Kidby |
---

Click for a look at the route (87K)

The wetest April on record preceded this run and historicalogicaly speaking it is well known that Milland was once a huge bog, so I think we were all expecting a bit of a mud bath on 423. The day however was dry and bright and the turnout average with almost more hares than hounds. The Pre Prance Prep was fairly short, no visitors, no newbies, Venerable Master couldn't remember the run number all the usual stuff, oh yes Alan did mumble something about a horse eating his falsies, well whatever turns you on.... then we were off.
Once again we were on flour and heading southeast towards the Rising Sun then past the Rising Sun (yes its the pub's name) and then northeast on a long straight bit out to Alfords Farm. There were two or three checks on this section to try and tempt us left or right but the falsies here only fooled the foolish. Right by the farm great care had been taken by the hares to make sure we all went through a Paddy Field, the grass on top lush and green masked a six inch layer of water.
From here we headed northwest skirting the eastern edge of Milland. Some malicious check erasure in the first part of this section delayed us temporarily but we were soon through and on our way up the leg sapping slope of Hatch Hanger. One nasty little uphill falsie even attracted our venerable Master who should know better. The on-on was back down and then back up the tarmacky bit to Milland House. It was here that the hounds picked up their old scent from run 3?? last year and went into automatic. Out to the big tree in the middle of the field, leftish, into the woods, up to the graveyard and over to the top of THAT drop, with THAT slippery staircase hewn into the muddy side of THAT cliff. Its as good as a regroup, no one wants to check down, we all know thats where we are going though, dont we. We all know of the mad ravenous dogs at the bottom and the high probability of a bone crunching fall. Anyway we all got through without mishap and continued on now heading for the chariots. Simon seemed to be having fun kicking along an old deflated footy ball until he tried a rugby style "Garry Owen" and the ball got stuck in a tree. There was a LONG on-in back down the road, so the pack were well strung out, and after about 1hr 20mins, most were tired but surprisingly not very muddy.
Special ceremonies were held to honour Graham Dowdell's TEN YEARS of continuous (never missed a run) hashing. He was presented with some militaristic strip of Vees, one for each year, by our Venerable Master and group flashes were done. Dave Enticott got the Hashit, something to do with using "local knowledge" ?. Apres Hash libations were taken at the Rising Sun.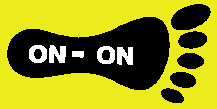 ON-ON Jan H