Est 1983 - ON PRES: Robin Low
| | |
| --- | --- |
| Run 425: | 21 May 2000: West Walk, Wickham |
| Hares: | Peter Maisey and Graham Dowdell |
---


This map reading, finding the start of the Hash thing is easier for some of us than others. Thus it was that while the rest were skulking in parked chariots not wanting to get their noses wet, Trevor was winding his way through the Hampshire lanes muttering to himself. It would not have been so bad if he had not been the bearer of that most important ceremonial object, the Hashit.
The big hand reached the appointed hour, yet no one stirred. The voice of the gentler Master was heard (rather sgt Wilson like) "I say would you mind awfully if I asked you to gather round ?". No one stirred. Then the voice of the other Master was heard (rather Capt Mainwaring like) "Gather round everyone !". Only when it was obvious that the deluge was not going to abate did we, in dribs and drabs, draw together in the relative shelter of a large tree, to hear the opening addresses of Master and Hares. Instruction was simple and to the point, the run was going to be flat and dry with two regroups and "be careful crossing any roads .... and the on-out is this way, follow me".

A trail of sawdust was soon found heading East from the carpark into what was promised to be "new territory", certainly the landscape looked very promising as we made our way to the first check to the sound of thunder. There was some mutterings about lightening and being close to trees. The first check split the pack and there was a long run into the second, at which we arrived in a steady stream. Here there was complete chaos with several (including a venerable Master) overruning a falsie and providing a small short circuit. Following this the next five checks took us in a clockwise loop, right back to the second check where again we had chaos. Its no good, if you run the hounds around in too tight a loop like this they are bound to get all dizzy and confused. After the confusion had subsided, and we realised where we were, a way out to the South was found and it seemed that we would be making a clockwise loop to get back to the chariots. This is where we hit some real sneaky dead-end checks, three of them in close proximity, trail goes right, after 50 yds a Check, the only way from these Checks was back. Oh! and it was still coming down like stair rods and everything is getting boggy and we have given up trying to avoid getting covered in shiggy. Northish from here and we are running through dark dark dark forest, like someone turned out the lights but at least its dry. From here we splished and sploshed our way through several more checks until we reached that steep bit where there is a great view of... well clouds and rain.... and then ON-IN.

Ceremonies were held in the carpark, there were several nominations, yours truly among them, for harmless overrun of a falsie. However the prize was taken by Pete Colgate for "doing a Paul", and if you dont know what that means, then ask someone to explain.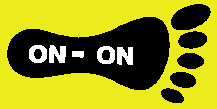 ON-ON Jan H.