Est 1983 - ON PRES: Robin Low
| | |
| --- | --- |
| Run 433: | September 10th 2000: Stedham Common |
| Hares: | Michael Brown and Jan Hill |
---
This run had been bounced through two sets of Hares and very nearly did not take place. Luckily Laurel and Hardy were willing to take up the challenge of trying to confuse the hounds in an area that the pack has visited many times before. Another fine mess .....
There were about eighteen all together including the arrival of another Mandy, from Aberdeen, who was said to be "experienced", and who offered to pay real money to take part !. A full compliment of venerable masters blessed the run, and then Mike directed the pack to start right on a falsie. One would have thought that by now the hounds would have realised what mendacious illegitimate offspring the hares are, but no, they chomped heavily on the bait.
The first half of the route took the pack in a clockwise loop around the sandpit to emerge on the Elsted Road at FitzHall's drive. Sue was an early leader, managing to guess the first three or four checks and moved the pack along with enough pace to "loose" both venerable masters. In fact they were not seen by many for the remainder of the run, however as we were to find out later it appears the they "haf spies everyver". They did spot Csicca and her blackberry feeding frenzy at the third check. The sixth check at the Minsted Road caused the only real confusion in the first half. The problem was that Paul found the on-on and disappeared into the distance calling loudly, and of course no one believed him, standing there shouting back "pull the other one Paul!". Finally, and because everything else proved false the pack set off in persuit.
The second half continued the clockwise loop via Goldrings Warren and Iping Common. In the hollow before the climb up, there is a big pond, full of murky looking stuff. It's strange how Simon has developed a phobia about passing water on a hash, so when we reached the pond he was hanging back and in danger of getting four faults for a refusal. The "hit team" (those apostles of hashing Peter and Paul) emerged from the bushes but failed to baptise Simon who managed to scamper through unsaved and unwashed. The checks at the top of the slope saw the pack together once again with Dave Barty getting a little frustrated by the number of falsies he had been down. Relief was at hand because the territory for the remainder of the run was so well known that the hash became more or less a procession to the on-in after just over the hour of puffing.
Ceremonials were in the carpark, with nominations for Sue (lucky check guessing), Paul (for being Paul),..etc. Csicca took the hounours for here blackberry breakfast. Apres hash was taken at the Thai pub in Stedham.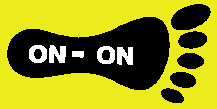 ON-ON Jan H.