Est 1983 - ON PRES: Robin Low
| | | | | | | | | |
| --- | --- | --- | --- | --- | --- | --- | --- | --- |
| Run 562 | 31 July 2005 | The Doc and The Chamois | Stansted Park Middle CP | SU755111 | | | | |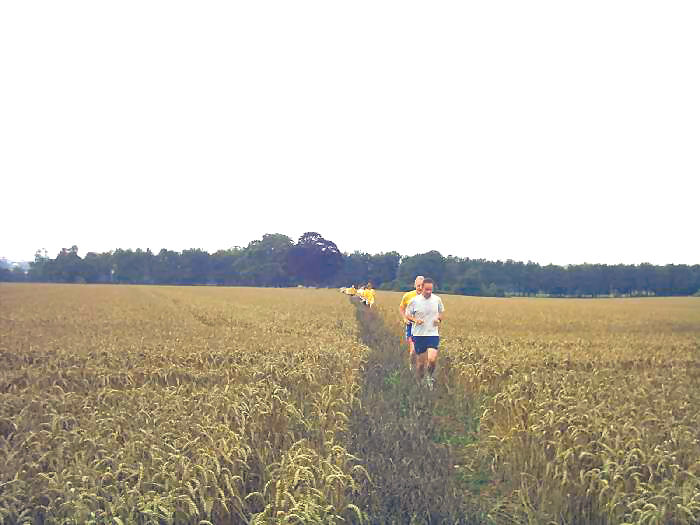 Hashers can take a joke.... They must be able to considering some of the trails they run. But The Doc and The Chamois decide to hold a hash at a car park with only one entrance and then let the entire pack (over 36 this time) park up before letting on that tucked in the corner is a non-hasher who wants to get out.
After a bit of to-ing and fro-ing it was achieved and then on to the important stuff like welcoming new hashers to the pack and greeting the annual arrival of the Malibog clan.
In the midst of this JM Mr Bean turned up late - surely a hashitable offence and we all had to wait around whilst he parked. So a short explanation of the rules (i.e there are no rules) to the newcomers and we were off, with Sinbad blazing a trail as only a young and toned athlete can do. So the pack came to the first check and tried one or two trails but it was only when a trail where the flour had evaporated was tried that the next check was found. With the big Stanstead house in the background we all headed for it in the hope that the lords and ladies may have laid on tea and biccies for the poor but our hopes were dashed as Malibog found the trail going off to the right and away from the house.
We truidged down a nice muddy track but nobody got very dirty (where are you when we need you Splasher?) coming out to a nice field with lots of options (and lots of cattle) that brave hashers were reluctant to cross. Last time we sent a small child across in case we got hurt but this time any small mini hashers had more sense and stayed at the back.
The trail led us through long trails going through corn fields and I began to feel that I should wax lyrical about wandering lonely as a hasher or something but then I got stung and forgot all about it. It was strange but however hard we ran small mini hashers kept getting there first - perchance some shortcutters?
After an hour or so we began to suspect that we may be turning in a circle and then our courage was agin sorely tested as we had to dash through fields of rampaging stallions (well that is the way I am going to tell it at dinner, even though it was just two ponies a bit nervous of hashers). By now the scent of chariots was in our nostrils and the pack began to quicken it's pace. (This means moving up to a slow trot instead of a gentle walk).
Shortly after the cry of ON INN was heard and the pack ambled into the car park just a little after time. JM The Can Man mentioned that the reason for the extra time being played was the pack being a bit slow even for the CHI Hash (usually measured on the Liverpool docker scale as 2.3). Nominations were offered for various misdemeanors and the hashit was finally given to a virgin hasher with our pack - Rosie - for seeing the On INN and asking - Is that the end now?
As Captain Mainwaring would say 'Stupid Boy' (the fact it was a girl makes no difference)
So lessons learnt and hashit awarded the pack made its way to Woodmancote for well earned refreshment.

Humble Scribe.

on-on-on-on-on-on-on-on-on-on-on-on-on-on-on-on-on-on-on-on-on-on-on-on-on-on-on-on-on-on-on-on-on-on-on-on-on-on-on-on-on-on-on-on-on