Est 1983 - ON PRES: Robin Low
| | | | | | | | | |
| --- | --- | --- | --- | --- | --- | --- | --- | --- |
| Run 563 | 14 August 2005 | Karen and Geoff | Westbourne - recreation park on Monks Hill | SU755085 | | | | |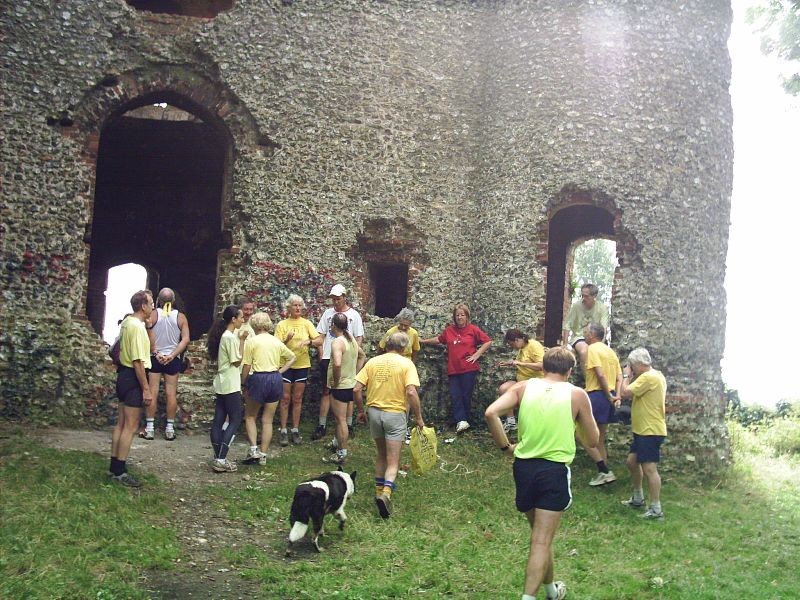 Remember the 14th of August. It was the day we had a long run. In fact it was so long that Paula Radcliffe heard that it was tougher than her Gold Medal run on the same day and asked if she could use our hash for long distance training. Some hashes have beer stops half way round, but for this one we needed a packed lunch. It started well enough with sunshine and a reasonable size pack (the pack was reasonable size you understand, not the overweight members). A very short welcome from the JMs and then the hare led us off leading the way until the first check. It fooled very few and then led off across the rutted field past the horses and around the village of Westbourne.
A few checks and then we began to head towards Stansted Forest, but the hare had been crafty and offered this just a carrot to entice us to follow pointless falsies. (This was a waste of time as this pack follow pointless falsies as a matter of course). Around the trails and across the fields and at one point we even saw some flour!
A regroup was held to allow those who had guessed the length of the trail and had decided to pace themselves, to catch up.
It seemed that the two Jans Bambi and the Gnu, had decided to use this as a training run and were in danger of being awarded the hashit for undue enthusiasm.
We crossed the road and then across a field where all of the pack headed in the right direction as Karen has told us two weeks before that we would be at this point on her run! So a brief regroup and then on to Racton Tower, an old ruin, rather apt for this pack. We had been told that we would be passing an old monument and as The Doc was in the car park then it had to be Racton. So a photo opportunity where the Can Man could not give us the usual history information as he said it was used as a 'house of pleasure' and he did not know much about such things. Every married man in the pack agreed that they also had forgotten what pleasure was. So onward with the pack beginning to wilt.
After a long run we came to a regroup but Jan (The Gnu) thought that just to be sure that the trail was true she would run a half a mile in the wrong direction in the hope of finding flour. Why not? Eventually she gave up and The Eskimo pointed out that although we had not seen flour for an hour or so, there was a falsie here which had been over run.
As we could see Westbourne we began to think that the end was in sight. Within 15 minutes and a circuit of the village we were right. The On Inn was sighted and we trudged up the hill weary and happy to be home. The Can Man could not think of anybody who deserved the hashit but Mr. Bean had noticed Spiderman peeping at those taking a comfort break and awarded the hashit for extreme perversion (even for a hash pack). Some mentioned that there was a lack of flour which Karen said was due to it being 'Self Raising'. Damned by her own hand the naming committee had no hesitation of awarding the hash nickname of Self Raising to her!

Humble Scribe.

on-on-on-on-on-on-on-on-on-on-on-on-on-on-on-on-on-on-on-on-on-on-on-on-on-on-on-on-on-on-on-on-on-on-on-on-on-on-on-on-on-on-on-on-on