Est 1983 - ON PRES: Robin Low
| | | | | | | | | |
| --- | --- | --- | --- | --- | --- | --- | --- | --- |
| Run 569 | 6 November 2005 | Hash Flash and Amanda the Panda | Ambersham Common X Roads | SU910190 | | | | |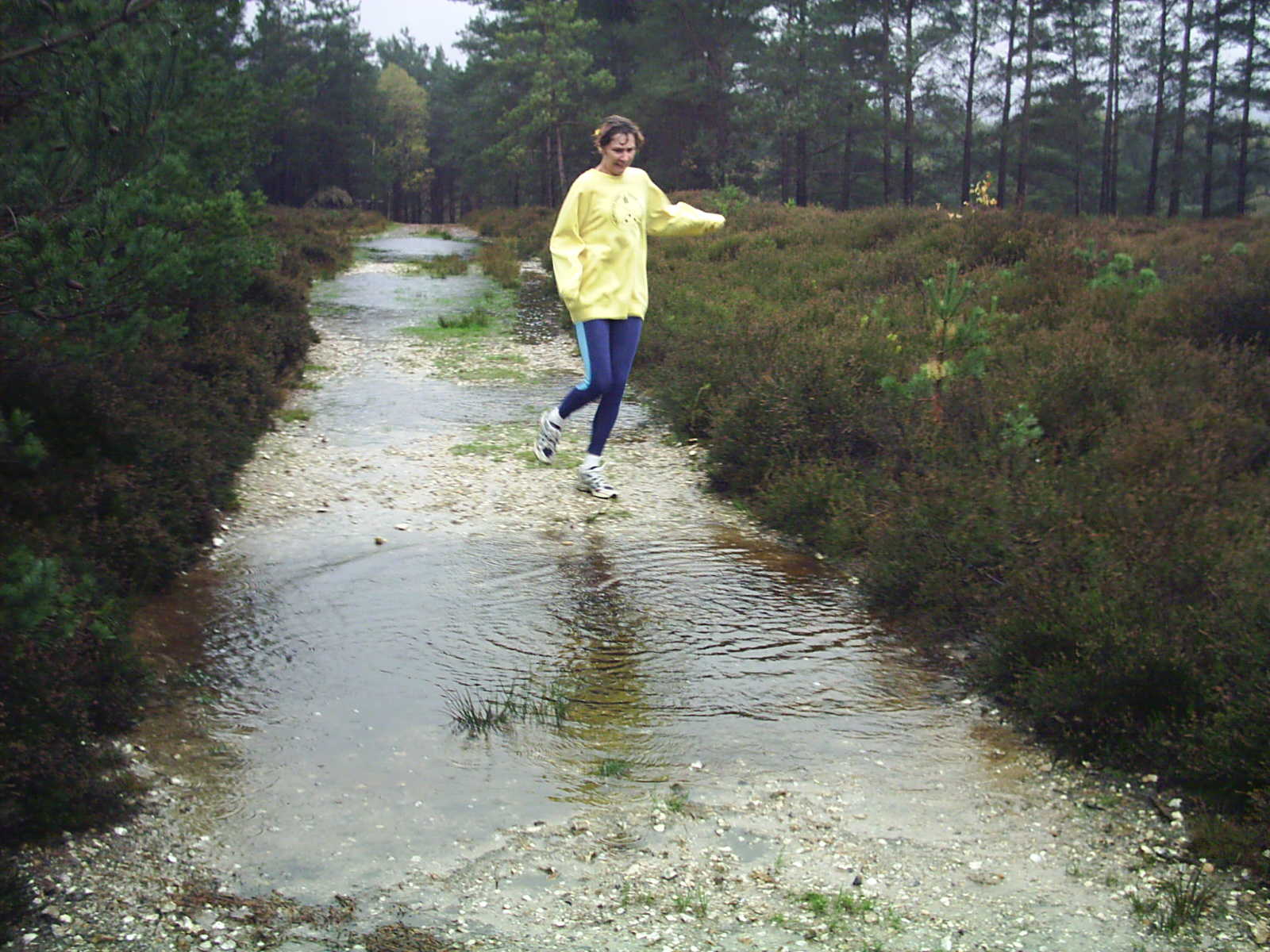 There is nothing like a nice dry crisp autumn morning and believe me this was NOTHING like a nice dry crisp autumn morning.
We turned up to the cross roads at Ambersham to see a tiny pack only to have The Panda then come along and say that if we had followed the arrows we would be in the correct car park. Arrows??? I didnít even see the Indians! (schoolboy joke circa 1950s)
So in a torrential downpour we heard the shortest introduction in pack history and swam off in search of a dot of flour that had not dissolved in the downpour.
The deviousness of the hares was apparent very quickly as they had us all turned around at the first check. We swam upstream to the next check (did I mention that it was wet?) and the pack was sent this way and that whilst The Panda beamed at us looking less pristine than usual as water cascaded on off her nose!
The pack came to the next check and slid slowly downhill leaving the Ref and Spiderman far behind as they had been checking a trail that the hares thought was there before the flood washed it away. At the bottom of the hill we again split up before heading for the river (although the difference between river and dry land was lost on most of us).
Across the river but a neat little back check turned us all around again.
We seemed to be heading back towards the chariots but as it was only on the half hour we could not be that lucky. We were not that lucky. We crossed the road and upstream to the common. Bambi was heard to scorn those such as Spiderman who had come in wet weather gear. "Once your completely wet how much wetter can you get?" he said.
We seemed to be swimming in an anti clockwise direction and for a second or two the rain eased off to a drizzle before hammering down again.
The Eskimo complained that her rainjacket did not keep out the rain.
I had to explain that it was a rain jacket not a protective jacket. All rain jacket means is that it looks better with a soft wet sheen on it.
We trudged through the checks with the hares having mercy on us and giving the occasional nod in the right direction rather than let us be washed away with the tide.
One more check and then an arrow pointed towards the chariots. We needed no other encouragement. The pack tumbled back to the car park for the ceremony of the hashit.
There was not a long list of nominations because nobody wanted to stand in the rain and so the Ref was awarded it as he had splashed Mr. Bean our JM as he had bent down to tie a shoelace. This seems like an injustice as the temptation must have been to great to withstand. Give a little boy some boots and a puddle and what else can you do but splash? As hashers are very rarely known to have grown up it was inevitable. However as the recipient was also the one handing out the hashit there was no chance of a reprieve. A short, wet, humourous hash, lots of fun for boys and girls.

Humble Scribe

on-on-on-on-on-on-on-on-on-on-on-on-on-on-on-on-on-on-on-on-on-on-on-on-on-on-on-on-on-on-on-on-on-on-on-on-on-on-on-on-on-on-on-on-on