Est 1983 - ON PRES: Robin Low
| | | | | | | | | |
| --- | --- | --- | --- | --- | --- | --- | --- | --- |
| Run 591 | 17 September 2006 | Hornblower and Sweaty Butterfly | Fairmile Bottom Cafe | SU990095 | | | | |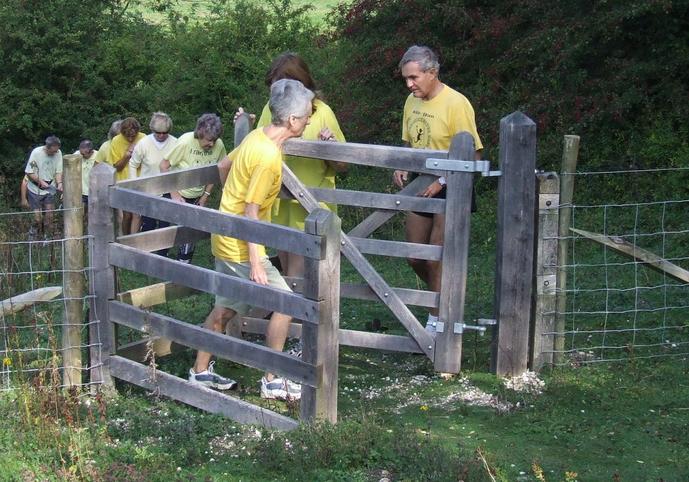 This time of year you would be putting the beach ball, bucket and spade at the back of the shed wouldn't you? But it really was a lovely sunny day and still warm and the Londoners were hell bent on one last stampede to Bognor R and Witterings with a particular speed test past Fairmile Bottom.
Madam Butterfly and Hornblower were hares of the day and without ado, we were led up and away from the din and into lovely newly green grass and thence into the woods.
The rain had brought out the fungi. That's not the usual rot you get between your toes; in early Autumn you abundant mushrooms and toadstools appear and we had a good count of varieties. Our species recognition, however, seemed very patchy so you will need put in some study before visiting Horndean. try this web site .
We went up, along, down and up the steps, over the top and back again.
Then we went along, back up, back down, along and down.
You can see photo evidence for more details.
In short, we never first guessed the hares and were back in 75 minutes
Bambi was insistent he had progressed to the 'On-Inn' in the correct sequence when it was suggested he get the hashit. Nonplussed, the JMs gave it to him anyway, along with Old Faithful for these two discussing their next hash when they should have been concentrating to the job in hand.
We must thank the Barties for a most excellent run.

To finish off we had a very pleasant drink and chin wag in the Spur Pub's garden.
Spiderman.

on-on-on-on-on-on-on-on-on-on-on-on-on-on-on-on-on-on-on-on-on-on-on-on-on-on-on-on-on-on-on-on-on-on-on-on-on-on-on-on-on-on-on-on-on