Est 1983 - ON PRES: Robin Low
| | | | | | | | | |
| --- | --- | --- | --- | --- | --- | --- | --- | --- |
| Run 592 | 1 October 2006 | Bambi and Old Faithful nr. A3(M) J2 | Horndean, Keydell Nurseries, Havant Road | SU706127 | | | | |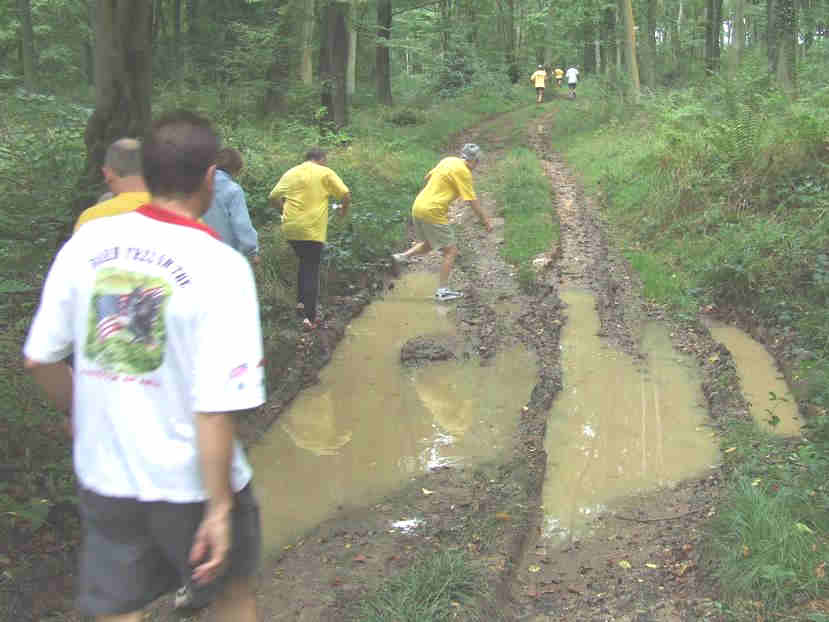 Just when you thought that every conceivable corner of our Hampshire and Sussex area had been explored Bambi and Old Faithfull find new, and very good, hashing country. Via a farming acquaintance, Old Faithfull found the name of the landowner and was granted once off permission to use the land. I trust we can go back for another go someday.
A pack of 20 assembled in the car park of the Keydell Nursery under threatening skies.
The JMs welcomed a visitor from Indonesia, Adrian Smith, more used to running on the equator in volcano country and Emily, Spiderman and Helena's daughter, for her first hash run. Also John Nash was a welcome returnee.
The Hares moaned about the thundery downpours would have obliterated their trail. They then lectured us about not overrunning falsies - as if we would!
Just as we about to go, who else but Mussolini drove in late with passengers Pancsi and Sarah pleading the puncture excuse - a bit like "the dog ate my homework".
So we were off. A bit of road work led us along Rowlands Castle road, down to Pyle Farm across a field and into Holt and/or Stein wood.
Some shrewd hash laying kept the back together and the weather toggled between rain and sun.
We retraced our path across the field and a false trail was now the right way - up to the big roundabout and back into the garden centre from the north. About 90 minutes and 6.5 miles.
The hashit was awarded to Mussolini for brazenly overrunning a falsey and gloating.
The hares were applauded for their resourcefulness in finding a new area and laying a fine trail.
We retired to the Ship & Bell in Horndean in the shade of the much loved GALES Horndean Brewery which has sadly closed after a takeover by Fullers - still at least their beer is better than most.
Take care out there.
Spiderman.

on-on-on-on-on-on-on-on-on-on-on-on-on-on-on-on-on-on-on-on-on-on-on-on-on-on-on-on-on-on-on-on-on-on-on-on-on-on-on-on-on-on-on-on-on