Est 1983 - ON PRES: Robin Low
| | | | | | | | | |
| --- | --- | --- | --- | --- | --- | --- | --- | --- |
| Run 594 | 29 October 2006 | Hornblower and Sweaty Butterfly | Stoughton Forest | SU815125 | | | | |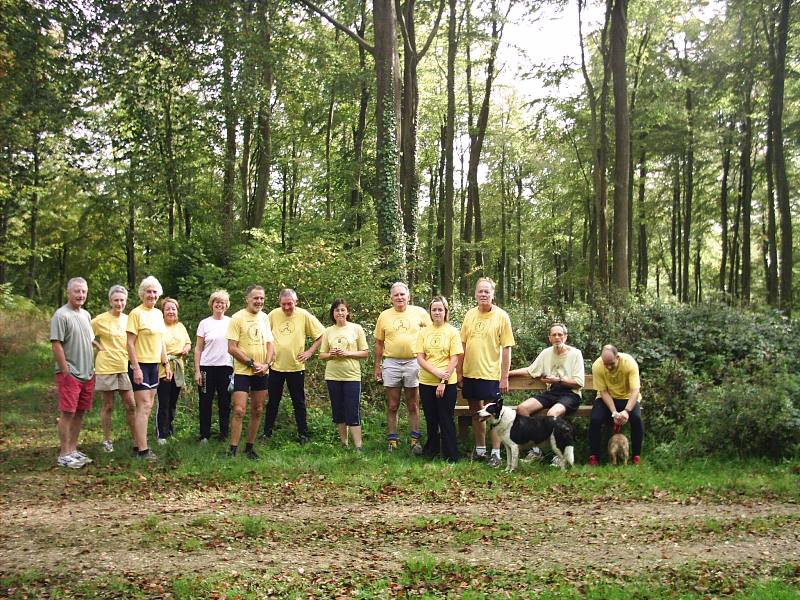 Once more to Stoughton on bright and warm morning. There was no sign of the humble scribe and it turned out that he had pulled a sickey and that our Perspiring Lepidoptera and Hornblower had laid the trail at short notice, how many trails have they laid this year 3 or 4 ?. There was one new face, Tony Webber, to complement an average turnout as we listened to the hares tell us the truth about the trail once again, even warning us that it might be "a little slippery" in places... this is turning into a "nanny hash".
So then we were off, straight up the slope from the chariots and into the forest. Up and up we went, then left a bit and then down down to a check not far from where we had started. The impression was forming that sadists had laid this trail and this was further confirmed subsequently by the number of long falsies. A few checks later the pack was back down on the main track that runs east from the carpark and totally stumped. Having covered this area many times in the past we thought all possible ways from the check had been tried, but we had not considered that the hares would go off piste and use the edge of a ploughed field that looked like it lead nowhere and was surely not a right of way. At the bottom of the field there was more confusion caused, I think, by a bit of sabotage or slugs etc wiping the trail. Once through this patch we covered an anticlockwise route with good checks and testing falsies until we found ourseves back near the road opposite Wildham Barn. Surely it would be ON-IN from here...but no there was sting in the tail as we once more headed away from the chariots up the path adjacent to the road, then across to the west of the road and up to the top of the woods. We had now been out well over the hour and the stress was begining to show, with at least one of our number being forced to "do a Paula" at the crossroads at the top. Then mercifully it was down down back to Wildham Barn and ON-IN.
No serious offences had been noticed by the masters, ha! I think we are all getting better at covering up. It is possible that even I, and possibly others perhaps might have managed to get away with several short cuts and overun falsies, perhaps, possibly maybe. In any event Pancsi was awarded the Hash It for being overheard making a small joke about the possibility of interfering with a falsie. There was a big round of applause for the hares who manged to find yet another way over this well used area, and then on down to the pub in Walderton for outdoor drinks on a balmy late October afternoon.
Bambi.
P.S. Sweaty Butterfly finished her marathon in under 4 h
on-on-on-on-on-on-on-on-on-on-on-on-on-on-on-on-on-on-on-on-on-on-on-on-on-on-on-on-on-on-on-on-on-on-on-on-on-on-on-on-on-on-on-on-on