Est 1983 - ON PRES: Robin Low
| | | | | | | | | |
| --- | --- | --- | --- | --- | --- | --- | --- | --- |
| Run 599 | 21 January 2007 | Torchy & Old Faithful - beware muddy! | Creech Wood Denmead | SU647113 | | | | |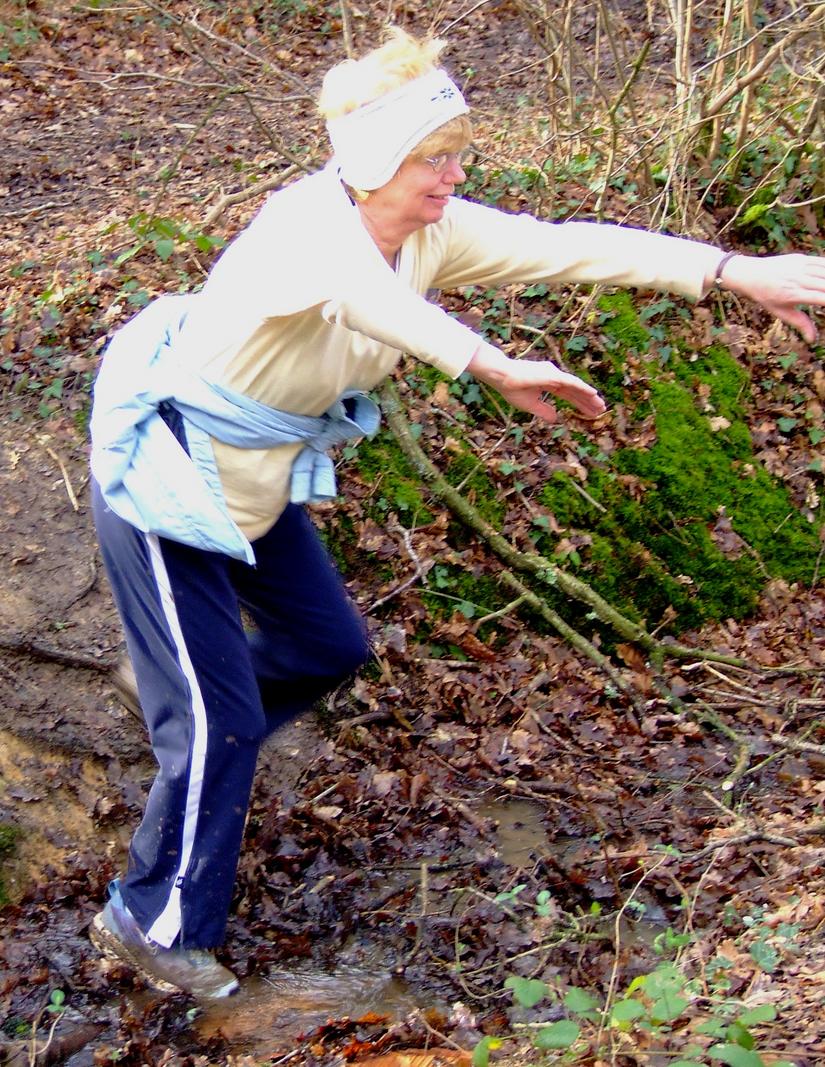 There was a road accident that delayed some of us who were travelling from Waterlooville. The police just sent us north to find our way. We saw Treefeller disappearing into the distance and followed until he curiously parked in a lay by. We slowed to see if we could help him find the way but he was watering the flowers so we carried on. 100m on we saw Linda who was walking back to him - ah well!
The brand new JMs, Pancsi and Godiva, welcomed us 22 souls and there being no newcomers were handed over to the Hares.
They said they was forestry work in progress which meant that two thirds of their planned route had to be redone on the day.
So, at 11:10 on a sunny brisk morning after the wind and rain of the previous days, we set off.
Just about the whole pack started heading for the south east portion of Creech Woods as we had on previous occasions. Some ladies however spotted the right trail which led us over the road and along a trail parallel to the road up to Creek house's back garden. then doubling back into Bere Forest. We were craftily led hither and thither with the old infirm and slothful easily able to keep up. Dr Blood, also caught up in the traffic problems, used his GPS to navigate to the start and managed to catch up with the pack.
There was indeed plenty of log piles oozing resin along the paths and the vehicles had made a mess of the paths but on the whole the going was fine.
Alex was keen to check out some of the more unlikely routes.
Leaving the 'Do not enter the forest' signs behind and hopping over some wire fences we vectored back to the road into more familiar territory and just over the hour we were back at the chariots.
The JM's voiced our thanks to the Hares who gave us an excellent run despite their misgivings.
The hashit candidates were Jim and Jan and Paul for arriving late But since the JMs were guilty too they suggested Selwyn, for looking at his watch; Miriam, for having an impression of a hand on her derrière but the award went to Alan and Amanda for having a 'domestic' in public.
We retired to the Harvest Home Pub were we had a jolly time discussing the incipient growth of bureaucratic nonsense whereby folk can't climb a ladder, change a plug run an informal running event without falling foul of some EEC edict.
Power to the people.
Spiderman.
on-on-on-on-on-on-on-on-on-on-on-on-on-on-on-on-on-on-on-on-on-on-on-on-on-on-on-on-on-on-on-on-on-on-on-on-on-on-on-on-on-on-on-on-on