Est 1983 - ON PRES: Robin Low
| | | | | | | | | |
| --- | --- | --- | --- | --- | --- | --- | --- | --- |
| Run 612 | 22 July 2007 | The Ref and Old Faithfull | East Dean - Pond Barn Newhouse Farm, Newhouse Lane | SU904142 | | | | |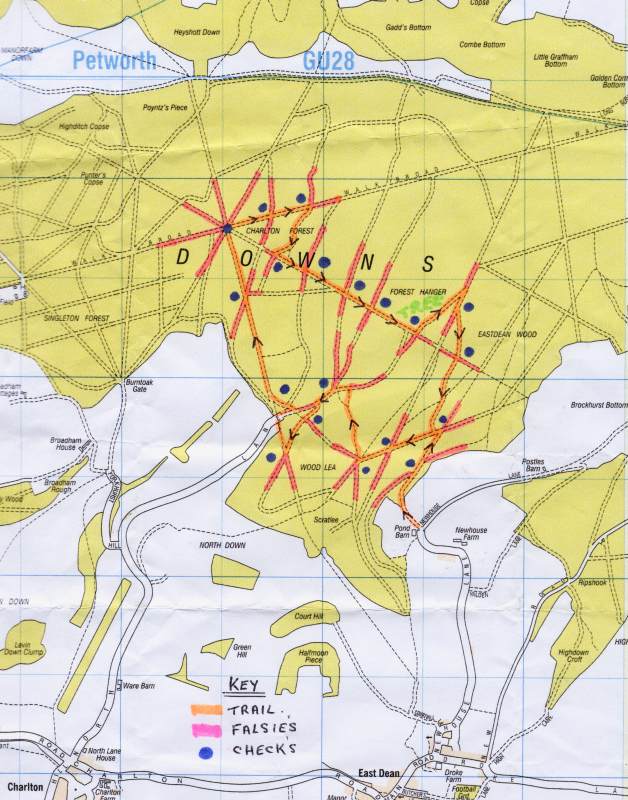 Our luck was in, all of those virgins that we sacrificed to the great god Hashin was rewarded by a warm sunny day squeezed between downpours that have caused the worst flooding in England since 1947.
Not only that but this run achieved full marks for it's signage, there were HHH boards at every junction from the turning by Goodwood racecourse.
Accordingly a good number of eager hashers managed to find their way to the barn to listen to the Hare's pre-hash-amble which included something about spotty checks indicating nearby numbered cards to be collected that might result in prizes.
To start with no one seemed to want to move but then we all seemed to head off directly up the hill from the barn which luckily turned out to be true trail.
Thats when Beka turned up.
The first few checks were easy enough and a puffing Beka managed to catch us up as we zigzagged up to the top of Wood Lea.
Here the pack went to pieces, all obvious trails were false, so some gave up looking while others wandered around in the undergrowth sniffing for flour.
After an eternity, flour was sniffed which resulted in a charge down hill, north on a narrow deer trail.
By now some interesting tactics were beginning to emerge aimed at maximising the chance of collecting the numbered tags.
Apart from the obvious tactic of being an FRB, there was a reluctance to call On-On so as to get good lead on the trail.
Also there was the tactic of observing others at a dotted check and then pouncing in front of anyone who looked like they had seen the tag and was heading for it.
So, uncharacteristicly there was a competetive air to our progress.
I wont bore you with a detailed account of the route, basicaly we made an anti clockwise loop up to Broad Walk and back via Forest Hangar, using a few obscure "bend down and crawl through" trails and some long uphill hauls that needed a re-group.
Finaly a tricky little falsie had been re-layed near the On-Out-In which was more "technical" than challenging.
The running/staggering/crawling time was 1 hour 35 mins.
We circled up and were told how Can Man and Francis had overrun the falsie at the end, how Bambi had callously overtaken the JMs on a run earlier in the week, how Spider Man was flaunting a new car and GPS tracker and other tales of this ilk.
Francis was awarded the Hash-it for using the "pounce first" tactic to snatch a tag from under the JM's nose, what cheek! .
Not many people noticed that Dogwhistle had appeared from somewhere, super late again. So on to the prize draw.
The Ref announced that there were three winning tags, the ones that matched the day month and year of his birth, 21, 7, and 61 I think, and he doesn't look a day over 70 !.
Pats on the back for a great trail to The Ref and Old Faithful.
We adjourned to the Star and Garter for refreshments, which was eerily quiet for a Sunday lunchtime. On-On Bambi.
on-on-on-on-on-on-on-on-on-on-on-on-on-on-on-on-on-on-on-on-on-on-on-on-on-on-on-on-on-on-on-on-on-on-on-on-on-on-on-on-on-on-on-on-on