Est 1983 - ON PRES: Robin Low
| | | | | | | | | |
| --- | --- | --- | --- | --- | --- | --- | --- | --- |
| Run 616 | 16 September 2007 | Torchy and Hugh Pead | North Boarhunt - Trampers Lane | SU605116 | | | | |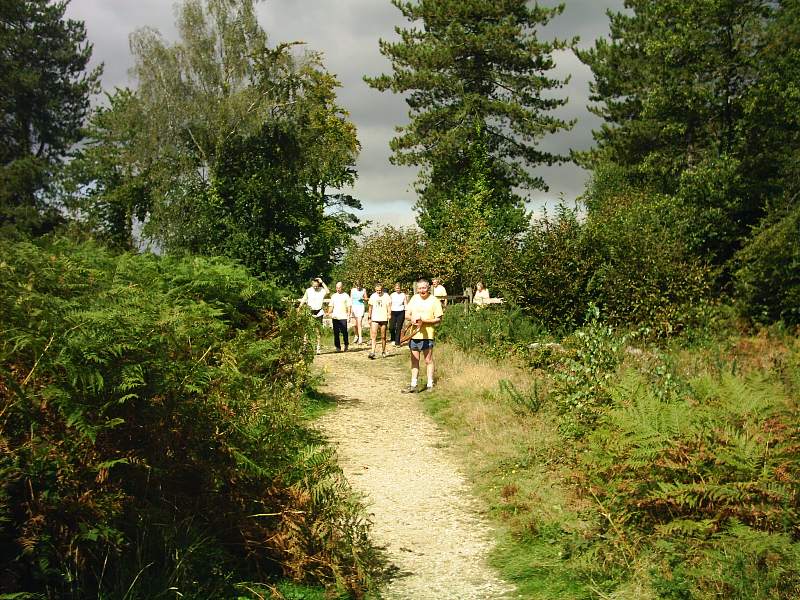 The day, bright and sunny with a fresh breeze and the scent of ripe blackberry in the air. A small throng of hashers managed to find their way to the roadside start to the east of West Walk. There were some true lies from the hares and a warning about not needing to cross black tarmac and we sauntered off, just as a chariot screeched to a halt and out popped Sinbad, The Gnu, Miss Perfect and Dogwhistle, adding about 30% to the size of the pack.
The first part of the trail took us through the open ground on eastern edge the Walk before reaching an early regroup near the road. Predictably Hugh had to discourage some of the pack from checking on the black tarmac as we headed north and into the trees. All was going pretty much tickety boo as we made our way through a series of well laid checks generally westward... that is until we came to a complete stop with every which way marked as false (or so we thought). After a while, with no sign of anyone finding a trail, Hugh admitted that he was not quite sure where the trail was, and started to study his marked map, rotating it like a steering wheel and pointing this way and that and umming and arring etc. Eventually he decided that if we went down the trail that Old faithfully had found to be false then we should be able to pick up the true trail.
When we reached the supposed falsie, to our surprise, and to Old Faithfully's embarrassment it was clear that the three dots were in more or less a straight line, close together to emphasise a change of direction.
Back on flour we made swift progress south, west and then north again the direction changes making each check unpredictable, until we found ourselves near the road on the western edge of the Walk. Here we began to fall foul of the action of a Hash Saboteur (Torchy suspected a man and dog) with missing checks and trail adding to the excitement. Somewhere in all this I noticed that Torchy was hobbling along, having had a blowout in his knee, all things considered he was not a happy hare. The remaining trail made a B line southeast and back toward the chariots, with Dogwhistle managing a forward roll along the way. This time we failed to give Sinbad the slip.
Godiva went through the list of mentions, obviously Old Faith full for being blind, the four late charioteers were in there, Francis for disruption to the hash notes ? and top of the list was yours truly, apparently for devoting too much time to blackberries, that is their consumption on trail and discussion of recipes. There was a big round of applause for the Hares.
Bambi.
PS Some did a 'Get Active' stall at Oaklands Park afterwards
on-on-on-on-on-on-on-on-on-on-on-on-on-on-on-on-on-on-on-on-on-on-on-on-on-on-on-on-on-on-on-on-on-on-on-on-on-on-on-on-on-on-on-on-on