| | | | | | | | | | | | | | | |
| --- | --- | --- | --- | --- | --- | --- | --- | --- | --- | --- | --- | --- | --- | --- |
| 655 | 2009-03-15 | Dr Blood & Pink Flamingo | Coates Common / Sutton Common South West CP | SU992169 | | | | | Lord's Piece Common / Sutton Common | SU992169 | | | | |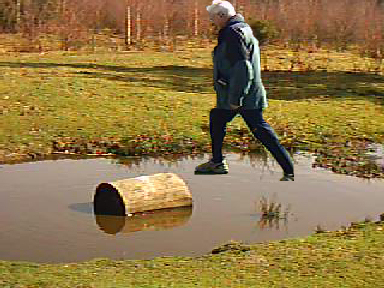 It was a really pleasant bright sunny dry morning, perfect apart from a seemingly small turnout as the appointed time drew closer.
Sinbad was there with the latest news about The Gnu, Spiderman was giving his new hip a trial outing and appeared to be going in circles because of one leg being longer than the other. The hares in their normal relaxed manner had just started to tell us all we wanted to know when the late arrivals turned up to make a reasonable size pack. There was a new hasher by the name of Guy and Paul Wilson arrived with his aunty Panda and uncle Hash Flash, they had had a small "Map Crisis" en-route.
Eventually after we finally got through the usual lies we set off to look for a trail.
To be brutally honest the first bit of the trail was a little low on excitement as it consisted of a slog from Lord's Piece up to the other CP and then back to the west of Sutton Common with the chariots in view all the time. This invoked the usual variations of the comment "that was a short run" from the pack however it did give Mussolini who was better late than never (again) a chance to join us. This area has been de-forested and presents a stark landscape with churned up soil and exposed root systems.
We then headed south and soon found a "silent" check in the old quarry where we had a short silent time to contemplate the plight of The Gnu.
It was north from here, towards Coates Common and soon the scent of pigs filled our nostrils instead of the usual stink of the pack, I am not sure which is more pleasant. We skirted two sides of a large pig village before being totally stumped by the check at the north eastern corner. Eventually the way out around the remaining sides of the village was found.
South again now and back to and across the road with some moaning from Sarah (not Godiva) and Kermit, understandable as an hour had gone by.
Into Decoy Copse where the first few checks were hard going and out to Hospital Copse, not mentioning the big SC that Paul "I'm just following aunty", Panda, Flash and Can Man took. Not to miss out on copses we finally slogged through the mud in Winter's Copse before heading back to the chariots via Keyaston Farm, with Can Man charging away at the front not weighed down this time by many cans.
So, after thanking the hares for a really good one hour and thirty two minutes of challenge there were nominations for Mussolini and Nemo for being SCBs near the end, Panda for pre-hash map confusion, and finally and surprisingly the Hash-It being awarded to Pink Flamingo for a "new shoes" infringement. Libations were taken at The Cricketers in Duncton.
Bambi.
on-on-on-on-on-on-on-on-on-on-on-on-on-on-on-on-on-on-on-on-on-on-on-on-on-on-on-on-on-on-on-on-on-on-on-on-on-on-on-on-on-on-on-on-on