Est 1983 - ON PRES: Robin Low
| | |
| --- | --- |
| Run 426: | 4 June 2000: Fontwell/Slindon Common |
| Hares: | Robin Low and Trevor Aves |
---


What a crowd !, I lost count after I ran out of fingers and toes. A big "Welcome Back" to many whose glad faces have been missed. Steve and Czilla, with her newbie sis Bibi, even Hash Cash was there lured out by the proximity of the fleamarket. No rain this time, a nice bright mild day. Our military Venerable Master kicked off with "Welcome to run number ..... ? what is the run number ?" AGAIN, and then proceded to refer to one person's shorts as being rather "Gay" before realising the modern connotation of the word. It was just like listening to Tony Blur addressing the WI. The hares then introduced some sanity into the procedings and made an apology for the ammount of "road running" to follow, before directing us out on to the road for the on-out.

The first part of this run (as promised) was flat, all on the road, and directly Northwest for over a K until we reached the Eartham road where we had an impromptu regroup because we were all strung out. After a bit of ferreting around we found the trail back Northeast through the small wood past the sandpit heading towards Slindon College. Emerging out on the road to Slindon we were treated to a path through the undergrowth alongside the road which featured nasty trippy roots, a steep drop to the left and a belly crawl under a tree trunk. Somewhere along here there was a dead fox, I didnt see it, but Trevor said that it was "Perfect except for being dead". I wonder if you can use a dead fox to get rid of warts ?. Next were two pretty good checks in a row. One took us down towards Courthill Farm but then back to the College. The other, right by the College had us stumped until someone noticed the big sort of stepping stool over the stone wall by the College entrance. From here we took the footpath that skirts the Western edge of Slindon Park and headed on-in, stopping briefly for a group photo, which was nice. The hares were among the first to return to the car park, which was not apreciated by some at the rear, who somehow managed to get a bit lost.

There was no shortage of nominations. The cynical Trevor nomination for actualy finding the start was void, as he was a hare. There was talk about a "nasty incident" in which Pete was accused of throwing mud on Miriam and "pushing her in the nettles". After taking witness reports it was suspected that Miriam had "done a Beckham" and "Tit for Tat" was involved. The recipient however was Jill, ostensibly for bringing along really brown and beautifully tanned legs to run on.

Libations were taken at the George in Eartham.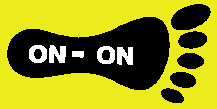 ON-ON Jan H.