Est 1983 - ON PRES: Robin Low
Run 511 (20th Anniversary Run)
14th September 2003
Bruce 'Spiderman' plus Jan 'Bambi'
Arundel - Jarvis Road (A27 east toward Arundel - 2nd right after Arundel Hotel)
Click for a map Click for a detailed map
---
See photos
---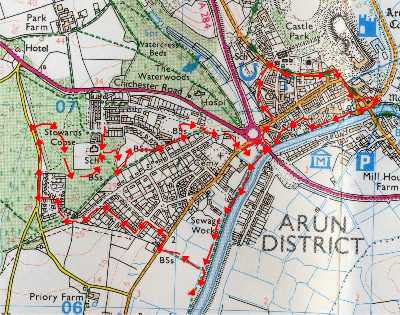 Happy Birthday to us, Happy Birthday to us, Happy Birthday dear hashers, Happy Birthday to us!
The Chichester pack is now 20 years old. Just think of all of the useful things we could have done on alternate Sunday mornings for the past 20 years...... washed cars, mowed lawns, overslept, argued with wife/husband/girlfriend/boyfriend (delete as applicable)....... so all in all I'd rather be hashing! The day began with Rasta complaining that she was unhappy with her nickame and she wanted it changed. I tried my best but the newest member of the naming committee a Mr Lucan (who apologised for his long abscence) said that names had to be earned and only an event that causes a name change would be admissable in the committee's eyes. Oh well, I tried.
So the pack gathered and when called to order by the JM's were swiftly handed over to the Hares who proceeded to give the most confusing pre-hash speech regarding chalk, flour pink spots etc.
We were all confused. It would appear that you followed something and all checks would be hidden next to the weapons of mass destruction just behind the unicorn stables.
Simon 'Splasher' was very confused and asked what a big F stood for. It took Evrim from Turkey to explain to him that F was the first letter of Falsie (University education not wasted) but certain other members of the pack had more earthy versions.
So the pack set off and were shortly given a tour of the city centre of Arundel following pink chalk stars before wending their way around the outskirts and back into the countryside before arriving at a fairy grotto near to the old boatyard where some keen volunteers had created a small Shangrila for residents to while away spare hours.
The pack were brought to order in this little dell to celebrate their birthday. Amada the Panda had organised a cake in hash colours and there was champagne on hand.
Your humble scribe was asked by the Doc if I was coming but I misunderstood and thought that the bunfight would be at the end and therefore missed the cake and champers!
Sophia spent the time taking hundreds of pictures of the day but missed out on the bunfight pictures because she had stupidly left her camera with your humble scribe who had thought that the pack was coming back!! So no pics there After the party many hashers had lost the will to continue but after much goading and a promise from Spiderman that it was only 30 minutes to go (fib) they continued.. Eventually the trail led along the river and through a wooded area with lots of loops until finally the magic On Inn was seen. The pack straggled in full of cake a bit slower than their usual olympian efforts.
Quickly down to the Black Horse at Binstead where Bambi was unusually awarded the hashit despite being the hare because he was trying to usurp hash tradition and introduce new signs.
This was more than most poor hashers can stand as it has taken 20 years for some of them to learn the three most often used symbols as it is without straining the brain and introducing more.
He protested but to no avail the pack bayed 'Yes' when the JM asked 'Is he guilty?,so;nuf said. On towards the next 20 years.
Humble Scribe